Myriam Bourgy (CADTM)

Este año se realizará el Foro Social Mundial en Dakar, del 6 al 11 de febrero. Como en todos los FSM celebrados hasta ahora, estará presente una delegación de la red internacional del CADTM. En esta edición del foro, diez años después de su lanzamiento en Porto Alegre en 2001, participarán cerca de 200 delegados del CADTM provenientes de 23 países y de 4 continentes. El CADTM nunca estuvo tan presente y tan activo con ocasión de un FSM. Esta vez, el foro se llevará a cabo en el oeste africano, donde el CADTM está presente en 9 países de la región. La red ACDTM se está movilizando desde hace meses para contribuir al éxito del encuentro altermundialista y a su inserción en los distintos combates.
Statement by the Bureau of the Fourth International
"The most indubitable feature of a revolution is the direct interference of the masses in historical events. In ordinary times the state, be it monarchical or democratic, elevates itself above the nation, and history is made by specialists in that line of business - kings, ministers, bureaucrats, parliamentarians, journalists. But at those crucial moments when the old order becomes no longer endurable to the masses, they break over the barriers excluding them from the political arena,(…). The history of a revolution is for us first of all a history of the forcible entrance of the masses into the realm of rulership over their own destiny."
Leon Trotsky, Preface to History of the Russian Revolution
 The situation as with any revolution is changing from hour to hour. Any evaluation will undoubtedly be overtaken by events within a few hours or days. But already we can say that the Tunisia and Egyptian people are writing the first pages of the revolutions of the 21st century. They are sending shock waves throughout the Arab world, from Algiers to Ramallah, from Amman to Sana'a in Yemen. These revolutions result, within the particular historical conditions of this society, from the crisis that is shaking the world capitalist system. The "poverty riots" are combined with an immense mobilisation for democracy. The effects of the world economic crisis combined with the oppressive dictatorships, are making these countries the weak links in imperialist domination in the current situation. They are creating the conditions for the opening of processes of social and democratic revolution.
Demonstrations, strikes, mass meetings, self-defence committees, mobilisations by trade unions and civil associations, mobilisation of all the popular classes, "those below" and "those in the middle" who are swinging over into insurrection, "those above who can no longer rule as before", convergence between parties from the radical opposition against the system, these are all the ingredients of a pre-revolutionary or revolutionary situation that is today ready to explode.
It is today the turn of Egypt to see hundreds of thousands of workers, young people and unemployed stand up against the dictatorship of Mubarak.
In Tunisia, a bloody dictatorship was cut down. It was the focus of the hatred of a whole society; the popular classes and especially of youth. The Ben Ali regime, its repression, its corruption, a system supported by all the imperialist powers, France, the USA, the European Union, had to be thrown out.
It is this same movement that is sweeping through Egypt today.
There are, of course, historical differences between the two countries. Egypt is the most populous country in the Arab world. It has a decisive geostrategic place in the Middle East. The structures of the State, the institutions, and the role of the Army are different there. But it is the same basic movement that is affecting the two countries.
The Tunisian masses could longer stand an economic system - "a good pupil of the world economy" according to Mr. Strauss-Kahn - which starved them. The explosion of the prices of basic foodstuffs, unemployment of almost 30%, and hundreds of thousands of trained and qualified young people without jobs constituted fertile ground for the growth of a social revolt that, combined with a political crisis, led to a revolution.
There were dramatic price rises for all essential products, including rice, wheat and corn, between 2006 and 2008. The price of rice tripled in five years, passing from approximately $600 per ton in 2003 to more than $1800 per ton in May 2008.
The recent increase in the price of the grain is illustrated by a jump of 32% recorded during second half of 2010 in the compound index of food prices.
The big rise in prices of sugar, cereals and oilseed products took world food prices to record levels in December, exceeding those of 2008, which had started riots throughout the world.
At the same time, the IMF and the WTO are demanding the lifting of all tariff barriers and an end to all food subsidies.
The recent speculative rise in food prices encouraged a worldwide development of famine on an unprecedented scale, which is hitting a series of countries in Africa and the Arab world.
Egypt has also experienced the effects of this explosion of food prices. The economy does not create enough jobs to provide for the population's needs. The neoliberal policies implemented since 2000 have caused an explosion of inequalities and the impoverishment of millions of families. Nearly 40% of the 80 million Egyptians continue to live on less than two dollars per day. And 90% of the unemployed are young people under 30.
The other remarkable thing is that the Egyptian national trade-union federation – led by members of the government – has partly withdrawn its support for the government in the two weeks since the Tunisian insurrection. They wanted price controls, wage rises and a system of subsidised distribution of foodstuffs; the people not being able to obtain basic necessities such as tea or oil. That the union leaders should demand this is unprecedented because they have been convinced neo-liberal supporters. That is the impact of the Tunisian events.
In Tunisia, this revolution has deep roots. The current social movement is the result of a cycle of mobilisations and movements which draw their strength from the history of the struggles of the Tunisian people and its organisations, in particular, many associations for human rights and democratic freedoms and trade unions like many sectors of the UGTT (General Union of the Tunisian Workers):
 the fight of certain personalities for freedom of expression and to travel in 1999,
 the high-school students' movement in 2000,
 the mobilisations against the war in Iraq in 2001,
 the second Intifadah in 2002-2003,
 strikes and demonstrations in Gafsa in 2008,
 Ben Guerdane in June 2010,
 Sidi Bouzid, which at the end of 2010 opened up the way for the revolution.
It is a historical movement that started with this combination of social revolt and overthrowing a dictatorship but which today seeks to go further. It is a radical democratic revolution that has anticapitalist social demands.
Ben Ali had to flee, but the essence of his gangster system stayed in place. The force of the mobilisation has constrained the former Ben Ali supporters to leave the government gradually but, as we are writing this statement, the Prime Minister is still the Ben Ali supporter Ghannouchi.
The revolution wants to go further: "RCD out! ", "Ghannouchi out! ", behind these demands, it is the whole of the political system, all the institutions, all the repressive apparatus that should be eradicated. It is necessary to finish with the whole Ben Ali system, and to establish all democratic rights and freedoms: right of free expression, right to strike, right to demonstrate, pluralism of associations, trade unions and parties; abolish the presidency and install a provisional revolutionary government!
Getting rid of the dictatorship and of all operations that want to protect the power of the ruling classes means today opening a process of free elections for a constituent Assembly. This process must be based on the organisation of committees, councils, coordination and popular councils that have emerged from the process if it is not to be confiscated by a new oligarchic regime.
In this process, the anticapitalists will defend the key demands of a programme breaking with imperialism and capitalist logic: satisfaction of the vital needs of the popular classes - bread, wages, jobs; reorganization of the economy on the basis of fundamental social needs - free and adequate public services, schools, health, women's rights, radical land reform, socialization of the banks and key sectors of the economy, broadening social protection for unemployment, health and retirement, cancellation of the debt, national and popular sovereignty. This is the programme of a democratic government that would be at the service of the workers and the population.
At the same time, whether it is to organize the defence of the districts, to drive out RCD leaders of state administration or big companies, to reorganize the distribution of the food substances, workers and young people are organising their own assemblies and committees. The most combative sectors and most radical must support, stimulate, organize and coordinate all these self-organisation structures. They are something to build on to establish a democratic power of the popular classes.
In Egypt, at the time we are writing this statement, the country is in a state of insurrection. In spite of bloody repression, the waves of mobilisation of the people develop. Hundreds of thousands of demonstrators are in the streets of Cairo, Alexandria and Suez. The party office of the ruling NDP and symbols of the regime have been attacked. The hatred for the Mubarak system, the total rejection of corruption, and the demand for satisfaction of vital social demands against price rises have provoked and stimulated the mobilisation of all the popular classes. The regime is vacillating. The Army leadership supported by the USA has tried a "self-managed coup" putting Omar Suleiman, head of the secret services and pillar of the current regime, alongside Mubrak as vice-president. The army is strained. There have been scenes of fraternisation between the people and the soldiers but faced with the determination of the Egyptians the Army leadership could also choose confrontation and harsh repression. The demand of the millions in the streets is crystal clear: Mubarak must go, but it is the whole dictatorship, the whole repressive apparatus that must be brought down and a democratic process with all rights and freedoms set in place. The call for a day of mobilisation on 1st February is the next step.
In Egypt too, it is necessary to finish with dictatorship and to found a democratic process with all the rights and fundamental democratic liberties.
The current movement is the most important since the 1977 bread riots but here again it has deep roots.
For the last 30 years Mubarak has maintained a dictatorial regime, imprisoning and murdering his opponents, suppressing any independent expression of the social movement and political opposition. The electoral masquerade of November 2010, entirely controlled by the NDP which won more than 80% of the seats, is the latest example. In the last few years there have been important strike movements particularly of the textile workers of El-Mahalla, general strikes and demonstrations and protests by different social categories, big anti-imperialist mobilisations against the military occupation of Iraq and Afghanistan in 2004, marking the disavowal and isolation of a regime that is held up only by support of the USA and the European Union.
Egypt is, with Israel and Saudi Arabia, one of the three pillars of imperialist policy in the region. The USA, Israel and Europe will do everything they can to prevent Egypt escaping from their zone of influence and will do everything they can to oppose a revolutionary development of the protests.
The Tunisian revolution set the Arab world ablaze. It is also for a whole generation their first revolution. Everything can change today with the rising of the Egyptian people. The mobilisation will undoubtedly have repercussions through the region, in particular encouraging the Palestinians despite the shameful statement of Mahmoud Abbas.
We have to build a solidarity wall around the revolutionary processes which developing in Tunisia and Egypt, supported by active solidarity with the mobilisations throughout the Arab world. We cannot ignore the possibility of bad blows from the repressive apparatus of Ben Ali, or the threats of his friend Gaddafi. Also, if the regime decides on confrontation the Army leaders could unleash bloody repression.
Faced with the deepening of the revolutionary process, the western powers and the ruling classes will try to take back control by breaking this immense hope.
The Tunisian and Egyptian people must be able to count on the whole of the international labour movement, on all the global justice movement. In the trade unions, associations, the left parties, we must support the fights of these peoples and the revolt thundering through the Arab world.
Live the Tunisian and Egyptian revolutions!
Solidarity with the fights in the Arab world!
Bureau of the Fourth International
8pm in Paris
30th of January 2011

Redacción
Pincha aquí para ver el video de la manifestación en Bilbao durante la Huelga General del 27 de enero.

Kulturkrönika: Att dra fram kulturbilagan ur Dagens Nyheter förra torsdagen var som att dra fram en unken doft av femtiotalet ur en bortglömd garderob där den borde ha lämnats åt sitt öde. Maläten och förlegad låg den där på köksbordet och störde.
Det hela berodde på att DN:s prestigefyllda krogpris skulle delas ut, något som annonserades på framsidan med ett foto av en utstuderat tillfixad kvinna i krogmiljö. Det hade kunnat sluta där; men tyvärr.
Själva inslaget: till att börja med ett foto som liknar en hockeylagsuppställning av leende restaurangmänniskor som stolt sträcker på sig. Det är väl ingen fara med det, om det inte vore för att där inte finns en enda kvinna. Män, män, män från vänster till höger och tillbaka igen.
Är det alltså så att Stockholm inte kan uppbringa en enda kompetent kvinna som gör fantastisk mat värd ett pris? Jag har svårt att tro det. Lättare har jag för att tro att man från tidningens sida inte har letat riktigt ordentligt. Eller har en förutfattad mening om vad en riktigt bra krog är. Men oavsett om det nu skulle vara så att tidningen har rätt i sin bedömning eller ej så är det egentligen inte det som är problemet. Det är den här laguppställningen av grabbar i kontrast mot det som sedan följer – var och en av krogarna får sin recension upplättad av ett helsidesfoto. I varje foto är det en kvinna i fokus. Hon arbetar inte, hon har ingenting med respektive krog att göra. Hon är bara ett kuttersmycke. Trofén vid bordet eller den lockande fröken vid disken som alla tittar på och som snart ska få en liten makron instoppad i sin hårdsminkade mun, av en man.
Den förhärskande känslan är att vi lider av en fundamental backlash. En backlash som svider i mina tårkanaler. För om DN kan göra på det här sättet utan att tidningens kvinnosyn överhuvudtaget ifrågasätts – varken inifrån eller utifrån – ja, vad är då inte möjligt?
Nyligen såg jag ett program om den danska författaren Hanne Vibeke Holst. Jag kunde inte annat än hålla med henne när hon uttryckte en stor frustration över att den övergripande medvetenheten om att det patriarkala systemet alltjämnt påverkar och drabbar alla och envar – kvinna som man – håller på att suddas ut igen. Att de unga kvinnorna återigen lägger skulden hos sig själva när de misslyckas med att leva upp till utifrån pålagda normer.
Vi lever i ett mycket mer manschauvinistiskt samhälle än vad vi är medvetna om, menade Hanne Vibeke Holst som också var trött på kvinnornas lättja – att så pass många väljer att inte ens försöka. När vi ser hur det ser ut. I stora delar av världen är det fortfarande i princip en dödsdom att födas till kvinna. I Sverige får vi alla fall vara med ibland. Till exempel som utsmyckning.
Emma Lundström
emma@internationalen.se
Revolta Global - Mallorca
Pincha aquí para ver el video de las manifestaciones contra el pensionazo en Mallorca.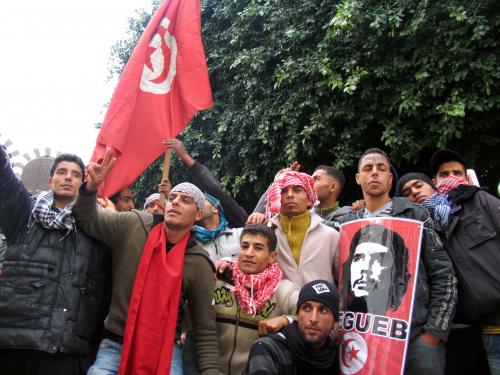 Miguel Romero
/
Viento Sur
¿Revolución? Hace ya tanto tiempo que no la veíamos que cuesta trabajo recordarla. La palabra ha sido banalizada en el lenguaje publicitario por coches, bancos, tiendas de moda… y en el lenguaje periodístico, incluyendo al periodismo político, por medio de adjetivos y colores, que tendían a domesticarla al gusto de la política-espectáculo. Hay también visiones doctrinarias que asocian la revolución a una normativa que deberían seguir necesariamente los pueblos en acción, salvo que sean desviados del camino por "direcciones traidoras".
Pero finalmente, se reconoce bien a una revolución social por su característica más elemental, tal como la definió alguien que sabía de lo que estaba hablando: una revolución, vino a decir, es la entrada independiente de las masas en la escena política. Es decir, el primer acto de su autoemancipación, que no asegura la llegada de los actos sucesivos, como sabemos por dura experiencia, pero sin el cual lo que sigue, le llamen como le llamen, no es una revolución.
David, manifestante apaleado en la manifestación del 27-E en Madrid
El jueves 27 de Enero se producía una manifestación en Madrid en protesta por el último ataque del gobierno de Zapatero a la clase trabajadora de este país, en este caso además con el apoyo y firma de los sindicatos mayoritarios CC.OO y UGT. El lema hay que pararles los pies abría la manifestación y para saber el porqué del final del título debéis leer el escrito entero.

Aunque la historia se produjo la tarde-noche del jueves, empezaremos el relato por el telediario de TVE del día siguiente. El azar nos condujo a que la noticia sobre las revueltas en Egipto y las revueltas en Madrid de la noche anterior se emitieran seguidamente. En primer lugar la corresponsal en Egipto narraba los sucesos del siguiente modo: "grupos de manifestantes actúan en legítima defensa propia ante la actuación desmesurada de la policía y el ejército", al final comunican que el número de muertos de la población a lo largo y ancho del país se encuentra alrededor del centenar.
Jesús Jaén, militante del MATS
Se ha escrito y hablado mucho sobre la última reforma del sistema de pensiones. No vamos a extendernos (recomendamos el excelente trabajo de Robin Blackburn publicado en la editorial Akal y titulado "El futuro del sistema de pensiones" ); solamente vamos a contestar a los argumentos más generales que se han presentado en el debate.
1.- Rubalcaba, en nombre del PSOE, ha dicho que "gracias a la reforma de 1984 llevada a cabo por nuestro partido, el sistema de pensiones hoy no está en quiebra". Falso, no fue la reforma sino la incorporación al mercado laboral de un número imprevisto de inmigrantes y mujeres -en los últimos veinte años- lo que permitió un superávit de caja. Para darnos una idea de lo que hablamos, la población activa aumentó en más de siete millones de personas.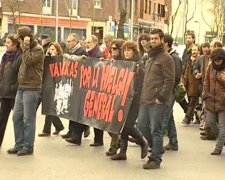 Europa Press
29 Enero 2011. Ver vídeos aquí y aquí
Un centenar de personas ha recorrido las calles del madrileño distrito de Carabanchel durante la mañana de este sábado para protestar por la reforma de las pensiones anunciada por el Gobierno esta semana y que eleva la edad de jubilación de los 65 a los 67 años.

La manifestación, convocada por la Asamblea por la Huelga General de Carabanchel, ha partido a las 12.00 horas de la Plaza de la Emperatriz y ha transcurrido sin incidentes por las calles de Eugenia de Montijo, Avenida de Fátima, Paseo de Muñoz Grande y calle de la Oca hasta finalizar en General Ricardos esquina con Valle del Oro.
4 de febrero a las 19,30 h, en el Ateneo de Madrid (c/Prado 21)
El 18 de noviembre pasado, muere Abraham SERFATY, el Mandela marroquí y símbolo de la lucha por la el socialismo y la libertad. Cofundador de la organización clandestina Ilal Amam junto a Abdellatif ZEROUAL, asesinado el 14 de noviembre de 1974 por los verdugos de Hassan II.

Por este motivo, los amigos y amigas de Abraham SERFATY nos hemos propuesto organizar el 4 de febrero a las 19:30 h, en el Ateneo de Madrid (c/Prado, 21), un acto político al que tenemos el gusto de invitarles en homenaje a Abraham, a su lucha y a la memoria de todos aquellos y aquellas que cayeron con el puño alzado.

La ponencia se hará a cargo de: Abdellah HARRIF: Secretario nacional de Vía Democrática y compañero de lucha y celda de Abraham SERFATY (ambos fueron puestos en libertad tras 17 años de cautiverio en las cárceles del régimen marroquí).